London to Sydney taxi ride aims to break world record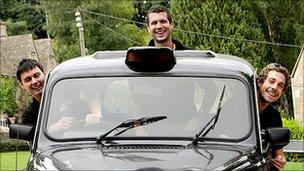 Three friends are aiming to complete the longest ever journey in a taxi with a charity ride from London to Sydney.
The trio aim to break the world record by driving a black cab 30,000 miles (48,280 km) across 37 countries in support of the British Red Cross.
Paul Archer, 23, from Gloucestershire, will share the driving with friends Johno Ellison, 27, from Leeds, and Leigh Purnell, 23, from Staffordshire.
The current record was set in 1994 with a journey of 21,691 miles (34,908 km).
The men, who are due to set off on their journey on Thursday, have challenged themselves to raise £20,345, which they estimated would be the cost of a taxi fare from London to Sydney.
Mr Archer, who has quit his job as a recruitment consult in London, to undertake the challenge, said a costly taxi ride had left them wondering what the most expensive fare was.
"I recommend never to carry on ideas like this in the pub, because we're now sat here on the brink of an eight-month expedition wondering what we have got ourselves into," he said.
Mayor of London, Boris Johnson, wished the team luck and said he was "delighted" to see the iconic symbol of London being used to raise money for charity.
The 20-year-old taxi was bought online for £1,500 and has already clocked over 100,000 miles.
It will carry the team across Europe, north Africa, the Middle East, China, south Asia and Australia, in which they will cross 36 borders and 10 time zones.
Related Internet Links
The BBC is not responsible for the content of external sites.