GCHQ to demolish Oakley offices in Cheltenham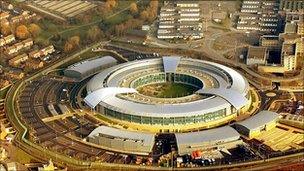 One of the buildings used by the government intelligence agency, GCHQ, in Cheltenham, is to be demolished.
A spokesman for the agency said staff at its Oakley site would be relocated to GCHQ's main complex at Benhall, Cheltenham, by the end of 2011.
"Once staff have left all buildings will be demolished, the land remediated and prepared for sale," he said.
GCHQ has had a presence in the Gloucestershire town for the last 60 years.
"This decision reflects the increasing costs of maintaining the Oakley site and the requirement for extensive future investment to ensure buildings remain safe and fit for purpose.
"Benhall offers better value for money and has sufficient capacity to absorb the Oakley workforce," the GCHQ spokesman added.
GCHQ also operate two smaller sites in Cornwall and North Yorkshire.
The agency is one of three intelligence agencies in the United Kingdom.
It works with the Security Service (MI5) and the Secret Intelligence Service (MI6) to protect the UK's national security interests.
Related Internet Links
The BBC is not responsible for the content of external sites.