Gloucestershire County Council cuts are approved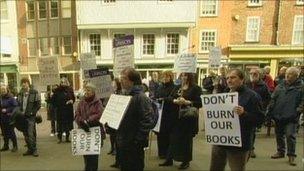 Gloucestershire county councillors have approved a four-year programme of cuts totalling £114m.
The plans will see 22 youth centres and 10 libraries close unless communities come forward to run them.
Four day care centres will close and farmland and other assets will be sold off.
About 1,000 jobs, which the Conservative-controlled council said equated to one in six staff, will go and £2m will be cut from bus subsidies.
The council said about a third of the posts to go would be senior managers.
Mandy Brown, who has severe learning disabilities, spends three days a week at a day care centre in Gloucester which will now close.
She has been going there for nearly 30 years.
"I just want to see it stay open for the other clients that go there as well," she said.
"I've got friends there I've known through the school I used to go to, I just don't want to see it close. The staff there are brilliant... please don't let it close."
Users of the affected day care centres will be offered personal budgets to pay for similar services elsewhere, but some of their families say it will not be practical.
Councillor Mark Hawthorne, leader of Gloucestershire County Council, said: "I think that the clear thing is we have a national government that's trying to tackle the national debt, I think that's right and proper, and in Gloucestershire that means we need to play our part.
"That means some really tough decisions about where do we spend our council tax money, what areas do we prioritise?
"The message that came out time and time again from local residents was protect the most vulnerable, protect those who need it the most, and that's what we've done."
Related Internet Links
The BBC is not responsible for the content of external sites.