Water plan aids Forest of Dean firm's green credentials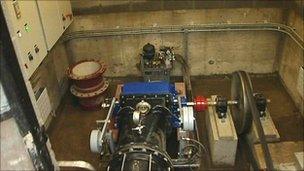 A company from the Forest of Dean claims it has cut its carbon footprint by more than 50% after installing a hydro electric generator.
Bixslade Stoneworks is using water from a nearby lake to power a turbine and the company estimates it will save thousands on its electric bill.
An Environment Agency (EA) spokesman said the government encouraged the use of green renewables where appropriate.
The EA licenses hydro electric schemes across England and Wales.
"We would speak to the applicant and guide them through the process.
"If the net gains outweigh the disadvantages it will be approved
"In this case this is a suitable location and an appropriate choice of generator so this is good for the stoneworks and its net carbon footprint," he said.
A spokesman for Forest of Dean Stone - which owns Bixslade Stoneworks - said it would now look at other forms of green energy including solar power and ground source heat pump.
Managing director Nick Horton said the company wanted to cut both its bills and carbon footprint.
He said water from a nearby lake is powering a turbine which supplies a third of the firm's electricity.
After a government subsidy on renewable energy this means it meets 80% of its annual electric bill.
"A lot of our customers like Gloucester City Council and Bath city council [sic] say it is a prerequisite that suppliers make their best efforts to reduce their carbon footprint and this helps the councils keep their carbon rating down as well," he said.
Related Internet Links
The BBC is not responsible for the content of external sites.