Gloucestershire parents lose second child in road accident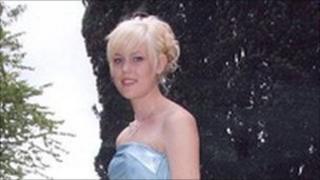 A mother and father have paid tribute to their daughter who died in a crash on Saturday, five years after their son was killed in a road accident.
Louise Davies, 21, died after her car collided with a bus at Littledean Hill on Saturday. Her baby son, Callum, who was in the car, is recovering.
Her brother Gareth, 23, was killed in a road accident near Redmarley while working as a binman.
Mrs Davies said: "It's like history repeating itself."
She described Louise as "a best mate as well as a daughter".
Her father, Mike Davies, 64, said his daughter was "fun-loving" and a "doting mother".
'Good car seat'
He said: "She was very well liked. We've had housefuls of her friends around here since Saturday. We'd have gone round the twist without them."
Mrs Davies, 56, said: "Louise grew up very quickly after Gareth died. All her mates took care of her then and couldn't do enough for her. They're doing the same for us now."
Speaking about her 20-month-old grandson, Callum, she said: "She doted on him. She insisted on giving him the best she could in everything - like buying him a damn good car seat.
"The doctors said it was that car seat that saved him. I keep talking about her to him. We'll never forget her."
Miss Davies, from Cinderford, worked as a healthcare assistant at Gloucestershire Royal Hospital and had hoped to become a nurse.
She and her son were taken to the Gloucestershire Royal Hospital after the accident which happened on Saturday at about 1140 GMT on the A4151 near Cinderford.