Prince Charles and Camilla visit GCHQ in Cheltenham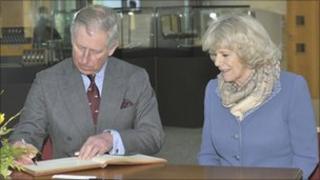 Prince Charles and Camilla, The Duchess of Cornwall, have paid a private visit to GCHQ's headquarters in Cheltenham.
The Prince of Wales toured the famous "doughnut" building for the second time since it was opened in 2004.
GCHQ director Iain Lobban briefed the prince on its work to support serious crime prevention and also support military activity in Afghanistan.
The duchess met staff involved in activities that reflect GCHQ's links with the local community.