Victorian 'taxi' rank discovered in Cheltenham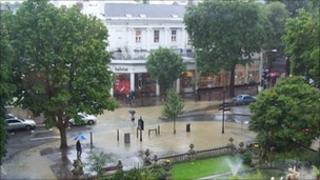 A Victorian "taxi" rank has been uncovered in a Cheltenham street.
Gloucestershire Highways workers discovered the set of red granite cobble stones close to the Long Gardens taxi rank in the Promenade.
It is thought they were laid when the area was used by horse and carriages for hire.
Wear on the Tarmac had already exposed a number of the cobbles, but their extent - an almost complete historic cab-stand - had not been clear.
The stones were discovered during preliminary works for road surface improvements.
Karen Radford, heritage and conservation manager at Cheltenham Borough Council said: ''The discovery of this historic road surface is wonderful as the cobbles give variety and richness to the Promenade.''