South Cerney barracks move proposal criticised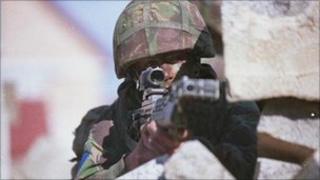 A Gloucestershire community has reacted against an MP's suggestion that the Duke of Gloucester army barracks in South Cerney should be closed.
North Wiltshire MP James Gray wants to relocate the 450 soldiers from 29 Regiment Royal Logistic Corps and their families to one "superbase" in Lyneham.
RAF Lyneham will be vacated in 2012 and its staff relocated to Brize Norton.
A local school headmaster and a member of Cirencester Chamber of Trade have both spoken out against Mr Gray's plan.
'Not practical solution'
The Conservative MP put the suggestion to government as part of the 2010 defence review. He has since declined to comment to the BBC regarding the matter.
Fellow Conservative, and MP for the Cotswolds, Geoffrey Clifton-Brown is against the idea of relocating South Cerney army personnel to Lyneham.
"Personally I've spoken to James Gray and I don't think this is a practical solution," he said.
"The idea is that South Cerney is an assembly point for all the RAF and other personnel that are going out to places like Afghanistan with all their equipment to then get on a plane to fly out at Brize Norton.
"I don't feel that Lyneham fulfils that criteria."
Centrally-based between the RAF's two main air transport bases of RAF Brize Norton and RAF Lyneham, South Cerney barracks is used for processing 'through troops' on operations and exercises.
Units report to the base for processing, baggage checks, feeding and travel to the other airfields.
'Devastating' effect
Steven Richards, head teacher at Anne Edwards Primary School in South Cerney, believes any potential relocation will impact greatly on them.
He said: "In purely financial terms it would be quite devastating as we would lose the funding for potentially up to 60 children.
"It would take the school from 250 to 190 children, which would have an effect on possible staffing levels and staff numbers."
Mike Johnson, of Cirencester Chamber of Trade, also expressed concerns saying: "If you think the population of Cirencester is around 20,000, and around 1,500 people work at the MOD base, then it's quite a significant part of the population there," he said.
"There is bound to be an effect right across shops, pubs and restaurants."