Stroud schoolchildren taught how to grow own vegetables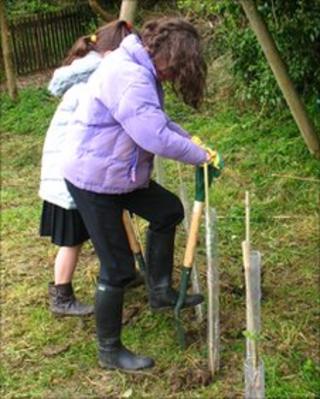 Schoolchildren in Gloucestershire are being encouraged to grow and enjoy eating their own vegetables.
The Stroud Valleys Project is setting up gardening clubs with 20 primary schools across the district to teach basic gardening skills to the pupils.
Emily Janke-Pearson and Tamsin Bent will spend two years on the Get Growing project which is funded by the Big Lottery Fund's Local Food programme.
Volunteer food champions will be recruited to support and run the clubs.
Projects director Clare Mahdiyone said they were delighted to be running the project to reinforce the link between growing and healthy eating.
"It follows on from our successful pilot scheme in 2009 and we will be working with teachers, pupils and volunteers to create sustainable garden plots at all the schools," she added.
Mark Wheddon, of the Big Lottery Fund, said such projects had "a wide and lasting impact on the community".
"With a record £57.5 million to distribute to various groups we will begin to see a real change in the accessibility of local food," he said.