Drivers stopped on A4151 near Cinderford in fatal accident appeal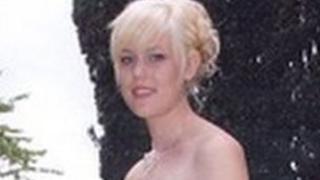 Police in Gloucestershire are stopping motorists on the A4151 near Cinderford a week on from a fatal accident.
Louise Davies, 21, died when her car collided with a bus at Littledean Hill on 26 February. Her baby son, Callum, who was in the car, is recovering.
Officers are speaking to drivers and passers-by in an attempt to find out what happened.
"We're going back because there may be people we haven't spoken to that regularly use the road," he said.
"They may have seen something of importance from last Saturday.
"We're grateful for the response so far and have spoken to a cyclist who came forward after an appeal as a potential witness," the Gloucestershire Police spokesman added.
Miss Davies, from Cinderford, worked as a healthcare assistant at Gloucestershire Royal Hospital and had hoped to become a nurse.
She and her son were taken to the Gloucestershire Royal Hospital after the accident at about 1140 GMT on 26 February.
It is the second tragedy to hit the Davies family.
Five years ago her brother Gareth Davies, 23, from Broadwell in the Forest of Dean, was struck by a car on the A417, near Redmarley.
He died in hospital the day after he was injured.