Appeal after barn owl shot in leg in Gloucestershire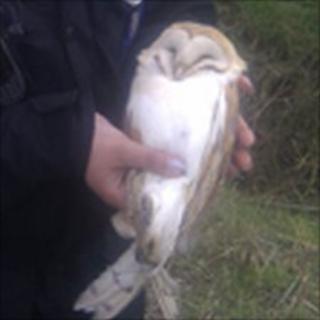 An investigation has been launched after a barn owl was shot in Gloucestershire.
The small female bird was discovered by a Police Community Support Officer (PCSO) in Tredington, near Tewkesbury last Thursday.
It was taken to the Barn Owl Centre in Gloucester with two shotgun pellets in its leg, but died.
Gloucestershire Police are appealing for witnesses.
Barn owls are protected under the Wildlife and Countryside Act.
PSCO Farah Devji, who found the bird, said she was initially "thrilled that the owl appeared to be OK".
"I am shocked that anyone would want to hurt an innocent animal like this," she said.