Gloucestershire hospital staff face enforced retirement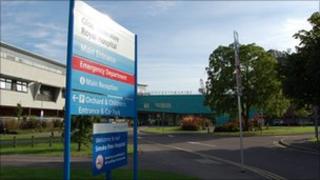 More than 130 Gloucestershire hospital workers - nearing or over the age of 65 - are receiving notices that they must take retirement in October.
The hospitals' trust said the decision was part of its plan to achieve £18m of efficiency savings.
It comes just six months before the automatic retirement age is due to be phased out.
Campaigners for older people in the county have described the decision as "outrageous".
A letter to 134 older employees at Cheltenham General and Gloucestershire Royal hospitals said up to 70% of the trust's costs were made up of staffing, which inevitably meant a large portion of the savings would need to be found by reducing the number of posts.
Arbitrary cut-off
Chief executive Dr Frank Harsent said: "We recognise that we will be losing people with long service and who will have been long-standing members of their teams.
"I greatly value the experience of employees of all ages and I understand that this may be upsetting for some members of staff, their families and their colleagues and I do sincerely regret that."
But Christina Snell, from Age UK in Gloucestershire, said: "It seems a terrible cheat. They wouldn't be able to do this, this time next year.
"The law's being changed because the current situation is unfair and I think it's outrageous that they've quickly got in under the wire before the law changes."
She said more and more older people were finding they needed to keep working for many reasons, including paying off mortgages and due to marriage break-ups.
"[Also], a lot of those people will have a huge wealth of experience and skills and the fact the decision's not being made on 'who's the best person for the job', as opposed to some arbitrary cut-off because of their age, is ridiculous," said Ms Snell.