Cirencester OAP chained to bus in free pass protest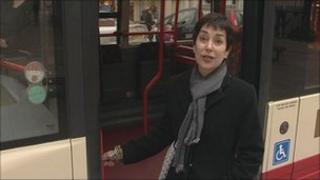 A pensioner chained herself to a bus in protest at council changes to free bus passes for the elderly.
Sarah Griffiths delayed the 855 service in Cirencester for just a few minutes after padlocking herself to a rail.
She said it was a "peaceful protest" over new restrictions which stop OAPs from using their passes until after 0930 BST on some routes.
Previously, she could ride free at any time. Council bosses said the changes were due to funding cuts.
From 1 April, Gloucestershire County Council took over responsibility for the concessionary fares scheme from the district councils.
Ms Griffiths, who would not give her age but said she was over 60, said: "We're not allowed to use the bus passes until 9.30 on some of the routes and I think that's unfair.
Enhanced service
"Once they've given us a pass, we should be allowed to use it without restriction.
"They say it's to save money for the council but so few elderly travel before 9 o'clock. They're discriminating within the group of 60+ people."
Stan Waddington, the county council's cabinet member for environment, said the amount of money the authority was given by the government for free bus travel between statutory times was less than it cost to actually provide.
"Where there is no bus between 9.30am and 10.30am, people in these areas can use their passes for free travel before 9.30am," he said.
"Some district councils, who previously ran the concessionary fare scheme but with significantly higher government funding, chose to provide an enhanced service that meant people could use their passes before 9.30am. With the reduction in funding, we can only afford to provide this for the most in need.
"I understand people's frustration at the changes but we are doing everything we can with reduced resources."