British Championship glory for Painswick snowboarder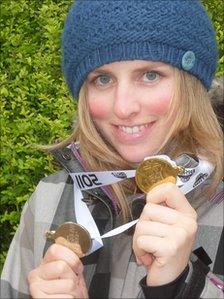 A Gloucestershire snowboarder has returned from the British Snowboard Championship with two medals.
Kate Foster, from Painswick, won the gold medal in the British Halfpipe Championship - her third consecutive title.
She also took the silver medal in the Snowboardcross - where four riders race down a track with obstacles - missing out on gold by 0.3 seconds.
Ms Foster spent the winter training and coaching in the US and Europe.
"Halfpipe is my main event but coming into it this year there was a bit of pressure as I was already the current champion, so it was great to have kept the title," she said.
"As for the snowboardcross, I always do that event for a bit of fun but getting a medal was an added bonus.
"Riding with my brother (eight times British Champion, James Foster) all my life obviously helps with speed."
She has recently hosted Animal Snowboard Camps in Austria and Italy as well as training snowboard instructors on the Why Ain't You Jibbin Camps in the Aosta Valley, Italy.
The summer will be spent training for the World Snowboard Championships in February which she has qualified for because of recent results.
Related Internet Links
The BBC is not responsible for the content of external sites.