Cheltenham council sorry over recycling pick-up glitch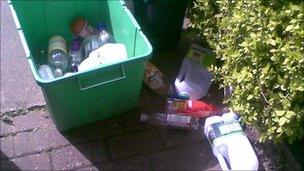 Cheltenham Borough Council is apologising to householders after a number of glitches in new waste collection arrangements.
Last month, some of the 50,000 homes in the town received two sets of food waste caddies and others none.
And when the changes came in on Monday, plastic bottles collections were not carried out in all scheduled streets.
The council said a new collection lorry with increased capacity was due to enter service in the next few days.
The issue is said to be due to the narrow streets in some parts of town.
Usual recycling lorries cannot get down them, so special narrow trucks are used, but do not have enough space in some cases to take everything, the council said.
One resident in Winstonian Road said: "It's typical, they make a promise, they make changes and it never comes right."
Another neighbour said: "I asked one of the [council] reps who came here if it was alright to put in plastic bottles for recycling. [He said] 'oh yes, go on'. Plastic bottles are still by my door, so what is the point of this recycling malarkey?"
Rob Bell, the council's director of operations, said: "Plastic bottles take up a lot of space and these are very narrow streets and we were hoping to receive a new vehicle in time for the launch of the scheme. Unfortunately that hasn't happened.
"So we're apologising to all the householders who haven't had their plastic bottles recycled and we're working hard to rectify this.
"We will be hiring in another vehicle for next week, so hold on to the plastic bottles and we'll collect them all on the next recycling day."
On Wednesday, the council said more than 23 tonnes of kitchen food waste had been collected in the first two days of the new scheme.
A spokesman said it was estimated that in those two days, the council had saved £1,300 in landfill tax.
Related Internet Links
The BBC is not responsible for the content of external sites.