Channel balloon flight 'indescribable' for Berkeley man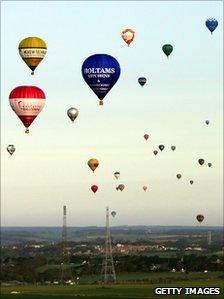 A Gloucestershire hot-air balloon pilot has said a cross-Channel flight is among the best things he has done.
Andrew Holly, from Exclusive Ballooning in Berkeley, joined the record-breaking attempt for the most balloons crossing the Channel earlier on Thursday.
His journey took three hours from Kent before landing at Bethune, a village 24 miles (39km) west of Lille, France.
He said flying with 50 balloons over the White Cliffs and among the ferries was "absolutely indescribable".
It is the first time a Guinness World Records bid has been made for the largest group of hot-air balloons to make the crossing.
"I don't think the pictures will do it justice but it has been absolutely fantastic," said Mr Holly.
"We've taken balloons to Buckingham Palace, underneath Tower Bridge and over the Alps, but this really is going to be right up there with the very best I'll ever remember."
Related Internet Links
The BBC is not responsible for the content of external sites.