Gloucestershire inspires TV return of animated bear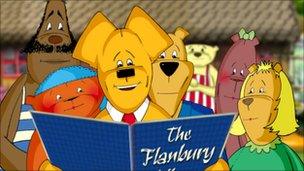 The landscape around Stroud has inspired the return of a children's TV character created by a local couple.
Bryan and Helena Panks, who animate Max Bear in their Rodborough cottage, used local shops, Rodborough Fort and Stroud High Street for the cartoon's backdrop.
"It's all local really," said Mrs Panks, whose Cheltenham-based brother Matt Potter also wrote the music to accompany the animated series.
The 13 new adventures of Max Bear are currently being shown on Channel 4.
Mrs Panks, who wrote the scripts, said Max Bear started off as a T-shirt design before being developed into short stories and then into mini-adventures for television.
"We don't really appreciate how well we've done but to be on a terrestrial TV channel is pretty good I think", she said.
In 1998 the husband-and-wife team took the character to Channel 4 which commissioned a Christmas special made entirely in still images with a soundtrack.
Max Bear is described as a mixture of James Bond and Laurel and Hardy and "definitely not cute".
Actor Tom Baker provides the voice and has travelled to Stroud for recording sessions with Mr and Mrs Panks.
Related Internet Links
The BBC is not responsible for the content of external sites.