Stephen Morris reviews Tewkesbury folk band Pholk Law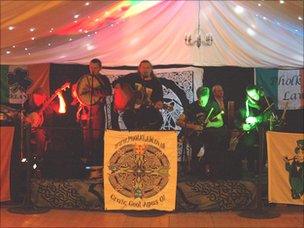 Folk is the new rock'n'roll.
Or maybe rock'n'roll was always just the new folk and things are now coming full circle.
The list of Gloucestershire bands and artists influenced by the genre is getting longer and longer: Sam Holmes, The Roving Crows, Jim Lockey and the Solemn Sun, Edd Donovan and the Wandering Moles, Rigadoo and Aspen Sails immediately spring to mind.
And now we can add to the list the name of Pholk Law, a traditional Irish folk act.
While some artists from the above list are doing exciting things with the folk genre, twisting it and turning it into something contemporary and new.
For example, see Jim Lockey and the Solemn Sun and also Aspen Sails for two entirely different approaches to this innovation.
Other bands are doing something equally exciting: returning to the roots of folk music and bringing traditional songs to new audiences.
It is this latter route that Pholk Law have taken.
The band aren't exaggerating when they describe themselves as being a "fine example of [what] a modern Irish folk ballad band should be".
Over the course of five tracks on MySpace, Pholk Law ably demonstrate their skill and passion for traditional Irish music.
Their sound is dominated by pipes and flutes giving a stabilising gentleness to even the most raucous of songs.
The flute on the instrumental Air and Reels is a thing of pure beauty, full of Celtic poignancy before gently rising towards something livelier as the reel kicks in with help from the banjo.
There are traditional staples of Irish folk here: I'll Tell Me Ma and Dirty Ole Town can be found on pretty much any Irish folk band's set list.
On the Pholk Law version of the latter, the vocals get support from banjo and a meandering set of Uilleann pipes which give the songs their unique Pholk Law flavour.
Or should that be phlavour?
Elsewhere, lesser known songs are brought to the fore with style.
Lonesome Boatman, for example takes an unexpected diversion towards South America with a dusty, Spanish guitar introduction and a pipe melody that owes as much to the Andes in its performance as it does to the Liffey.
There is something beautiful, if understated, to the music of Pholk Law.
With the calming sound of the pipes played against the gruff vocals and energy of other instruments the band have managed to cultivate a sound which is both invigorating and calming.
And that's a difficult thing to achieve.
Related Internet Links
The BBC is not responsible for the content of external sites.