Gloucestershire church's CCTV bid to stop metal thieves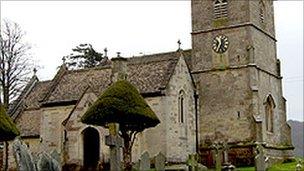 CCTV cameras could be installed at a Gloucestershire church which has been targeted by metal thieves.
Staff at St James's Church in Cranham, near Stroud, said they only discovered the lead was missing from the roof when water poured in during a service.
Warden Phil Stick said CCTV would be very expensive, but it looked to be the church's only option.
"It's about the only way you could stop people, short of putting razor wire up," he said.
The building is one of 70 churches in the county to have fallen victim to metal thieves since 2007, according to new figures by Gloucester-based Ecclesiastical Insurance.
Spokeswoman Katri Link said: "The price of metals on the world market drives the demand for metals and unfortunately [theft of] lead from churches also increases."
Related Internet Links
The BBC is not responsible for the content of external sites.