Stratton village post office to reopen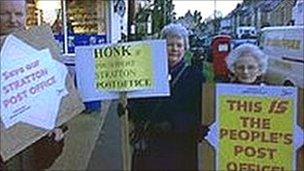 A Cotswolds village post office is to reopen three years after being shut as part of a nationwide restructuring of the network.
Residents in Stratton, near Cirencester, campaigned against the closure, arguing that the local service was well-used and making money.
Stratton Stores will begin offering services over the counter from 4 May.
It is part of an initiative called Post Office Local, which is being trialled in a few areas across the UK.
John Lafford, the owner of Stratton Stores, said: "We fought a long battle to stay open, supported by hundreds of local people from Stratton, the surrounding villages and our local MP.
"To our bitter disappointment it wasn't enough and in 2008 the Post Office withdrew its support and made the post master redundant.
"But we never gave up hope and I've been talking to them ever since to see how we can bring back this vital service."
Under the initiative, the investment is made by the shop owner who must provide the equipment and the staff.
The Post Office will monitor the outlets, assessing customer satisfaction to ensure their needs are met.
"Technology has moved on a long way and we can now offer a quick, efficient and most importantly secure post office service over the counter at time to suit our customers," said Mr Lafford.
"We will be able to offer all the services we did before from recorded deliveries, home shopping returns to pension and benefit payments and key recharge and banking facilities."
The scheme will create five new jobs and offer services from 0700 BST to 2100 BST seven days a week, he added.
Related Internet Links
The BBC is not responsible for the content of external sites.