Gloucestershire event to explore philosophy of play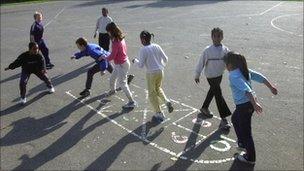 Philosophers and play specialists have met at a "thoroughly original" event at the University of Gloucestershire.
Experts from around the world have gathered to explore philosophical reflections on what play has to do with "life, the universe and everything".
Lecturer Francis Barton said the two-day conference aimed to contribute to a better understanding of play and why we should give it space and time.
A variety of playful activities, debate and discussion are on offer.
"Everyone agrees that children's play is a necessity, but at the same time people often treat it as a frivolous or even anti-social pursuit," said Mr Barton.
"Politicians say they support the idea of play as part of a child's education, but actually play is central to all aspects of children's lives. We tend to misunderstand and marginalise it."
Researchers and scholars from Canada, the USA, Norway, Denmark, Sweden, Germany, Ireland and across the UK are speaking on a variety of topics including religion, education, language, sport, and life in general.
Related Internet Links
The BBC is not responsible for the content of external sites.