Money changing scam in Gloucestershire investigated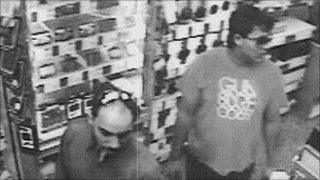 Police investigating a suspected money changing scam in Gloucestershire have released CCTV images of two men they want to speak to.
Officers are linking four incidents which happened on 3 and 25 March.
The images were taken at a department store on Dyer Street, in Cirencester, where a number of men requested cash be changed into various denominations.
Police said they believed the men intended to distract or confuse cashiers to profit from the exchange.
The incident happened at about 1245 GMT on 25 March.
Officers said a similar incident happened at an electrical store on High Street, Stroud, at about 1330 GMT the same day.
At about 2130 GMT on 3 March three men entered a pub on Russell Street, Stroud, and approached a member of staff to change denominations of cash.
"By changing their minds over how they would like the change they have confused the member of staff and ended up leaving the pub with more money than they entered with," a police spokesman said.
Staff at a restaurant on the same road were approached in a similar way a few minutes later, police added.