Tributes paid to Cotswold Airport fire services manager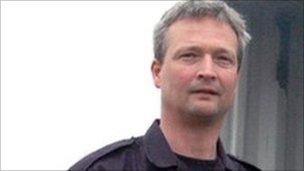 Tributes have been paid to a fire chief who was killed in an industrial accident at Cotswold Airport.
Steve Mills, who worked at the airport, died on Friday. The Health and Safety Executive said an investigation had started.
Mr Mills had been a retained firefighter at Malmesbury, Wiltshire for more than 10 years.
Cotswold Airport and Wiltshire Fire and Rescue Service said he will be greatly missed.
A Health and Safety Executive spokesman said the incident was believed to have involved a decompressed gas canister.
The spokesman said: "An inspector from Bristol has been to the scene and is conducting inquiries into how the incident happened."
An airport spokesman expressed condolences to Mr Mills' family, friends and loved ones.
He said: "Steve became fire services manager not long after the airport rebranded from Kemble to Cotswold Airport, in 2009, and his diligence, leadership qualities and affable nature earned him the utmost respect and affection of all his colleagues.
"His untimely death is a tragedy to us all and the sense of loss felt by everyone at Cotswold Airport is immense.
"Steve was a joy to work and socialise with and our thoughts and prayers are with his family."
Simon Routh-Jones, Wiltshire Fire and Rescue Service's chief fire officer added: "Steve will be greatly missed by everyone who had the pleasure of knowing him - all of the crew at Malmesbury are devastated by the loss of a friend and colleague, and the service is giving them as much support as possible at this difficult time."
Related Internet Links
The BBC is not responsible for the content of external sites.