Gloucester gull problem tackled as nesting begins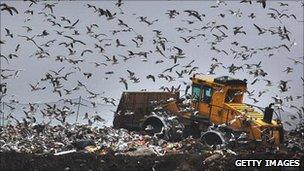 A number of steps are being taken to tackle the problem of gulls in Gloucester as nesting season begins.
For the ninth year running council contractors are targeting nesting sites to oil any eggs that the birds lay, which will prevent them from hatching.
Last year more than 2,000 eggs were oiled and Julie Wright from Gloucester City Council said these moves "lessened the problem" in the past.
Posters in the city also remind members of the public not to feed the birds.
"We've had a lot of complaints in previous years from businesses, residents, visitors and shoppers about the disruption caused by the birds," added Mrs Wright, private sector housing manager with the council.
"We have introduced a range of measures from reminding take-away operators of their responsibilities to provide litter bins to introducing a zero tolerance anti-litter campaign.
"Alongside of this we are working with the operators of the landfill site so that between us we can disrupt the birds and their feeding and cause them to cut down on their breeding."
Related Internet Links
The BBC is not responsible for the content of external sites.