Gloucestershire plan to extend life of 55 minor roads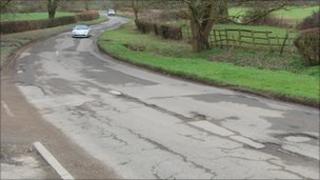 A number of rural and minor roads in Gloucestershire are being treated to reduce longterm maintenance costs.
The county council will be "surface dressing" 55 roads in one go whereas the work would usually take place on an occasional basis.
Marcus Anning from Gloucestershire Highways said it was a "very affordable treatment" to prevent future potholes.
Between 9% and 17% of C roads and rural routes in Gloucestershire are currently classed as in poor condition.
Stan Waddington, cabinet member for environment, said: "With our budgets stretched we have to make tough decisions on which areas to focus on.
"I know some people will see a road that appears to be in a good condition being treated and wonder why we're not targeting roads that really need work, but surface dressings won't help in those cases.
"We will continue to resurface the roads that really need it, but these will be done on a priority basis from now on."
More than 20,000 potholes have been filled in the county so far this year.