Gloucester exhibition remembers Battle of Imjin River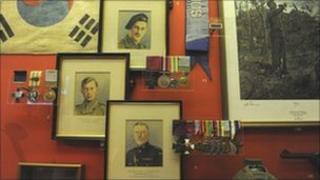 The bravery of the 'Glorious Glosters' is being remembered by a special exhibition in Gloucester.
The Soldiers of Gloucestershire museum is commemorating the 60th anniversary of the Battle of Imjin River in South Korea.
In the battle, more than 700 members of 1st Battalion, The Gloucestershire Regiment, withstood the advance of 27,000 men of the Chinese 63rd Army.
Veterans attended the opening of the exhibition on Wednesday.
HRH The Duke of Gloucester performed the official ceremony.
'Serious conflict'
Museum curator George Streatfield said there was a "remarkable collection" of Imjin material on display.
"There are very few showcases in this land that will have two Victoria Crosses and a George Cross from the same battle," he added.
The display gives a day-to-day account of the battle, which took place in April 1951, and recounts the personal memories of some of the men who took part and were taken prisoner by the Chinese.
Mr Streatfield said people forget that the Battle of Imjin River was "the first serious conflict in the post-World War II period" and had more casualties than the wars in the Falklands, Iraq and Afghanistan put together.