Crane eggs arrive at Slimbridge Wetland Centre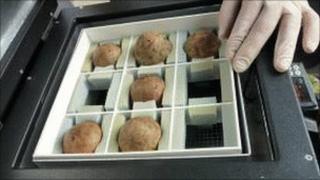 Fourteen common crane eggs have arrived at Slimbridge Wetland Centre as part of a project to reintroduce the birds to the UK.
A project spokesman said chicks had already hatched from some of the eggs, transported from Germany, while others were expected to hatch at the weekend.
The young birds will be reared at the Gloucestershire centre before being transferred to the Somerset Levels.
The programme released 21 cranes in Somerset in August last year.
The eggs, from the wild population of Eurasian cranes in Germany, were transported to Gloucestershire by road.
The Great Crane Project is a partnership between the Wildfowl and Wetlands Trust, the Royal Society for the Protection of Birds (RSPB) and Pensthorpe Conservation Trust.
It wants to restore wild common, or Eurasian crane, to the UK wetlands. It was lost as a breeding bird 400 years ago after their nesting sites were drained.
The project hopes to have released 100 birds by 2015.
'Really sad'
It sees staff based at Slimbridge don grey crane suits and teach the birds to find food, swim, socialise and guard against predators.
Tony Whitehead, from the RSPB, said three of the cranes released in Somerset last August had since died.
"It's really sad we have lost three but the fact that we have 18 is remarkable," he said.
"It's a far greater survival rate than you would expect, even in the wild."
A second batch of eggs is due to arrive at Slimbridge next week.
The spokesman said the cranes will be transferred to a temporary release enclosure on the Somerset Levels and Moors in the summer. They will later be released into the wild.
Aviculturist Roland Digby said: "The first year of The Great Crane Project really surpassed our expectations.
"We have a healthy flock of 18 cranes in Somerset, giving everyone who sees them a massive thrill.
"They behave just as they should in the wild: exploring, foraging and taking it in turns to look out for predators and potential threats."