Royal wedding: Camilla to plant Wedding Cake tree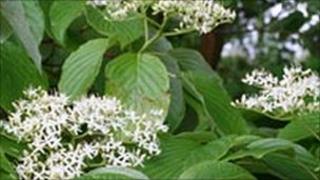 The Duchess of Cornwall is to plant a special tree to mark the marriage of Prince William and Kate Middleton.
The duchess will plant the Wedding Cake tree sapling at St Mary's Church in Tetbury, near her home Highgrove in Gloucestershire, on 3 May.
The tree is nicknamed Wedding Cake due to its horizontal, tiered branches and star-shaped white flowers in the summer.
Prince William, her stepson, will marry Miss Middleton on 29 April.
The tree, also known as Cornus controversa, is a deciduous tree from Japan and Korea.