Gloucestershire Warwickshire railway line reopens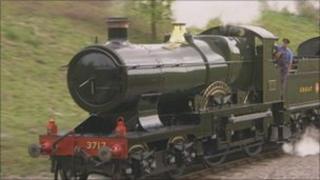 The Gloucestershire Warwickshire Steam Railway has reopened between Cheltenham and Winchcombe.
The track was damaged by a landslip last April which cost nearly £1m to repair. A second landslip occurred at a different embankment in January.
The 14-mile round trip service, leaving from Cheltenham Racecourse, began on Good Friday.
It was the first to leave from the racecourse since the embankment collapsed at Gotherington.
Rail enthusiast and music producer Pete Waterman, the railway's president, led a £1m emergency appeal to fix it.
'Amazing support'
All the funds came from donations.
The line has now reopened as two railways following the landslips. The other line, which opened on 2 April, offers a nine-mile round trip from Toddington via Hailes Abbey and Laverton.
Project manager Alan Bielby said: "We have received amazing support from other railways.
"They've been doing a full weekend galas for us at the Great Central [in Leicestershire] and number of other railways are doing a special train or a special day for us."
The railway, also known as the Honeybourne Line, is run by volunteers.
It started 30 years ago and carries 75,000 passengers a year.