Gloucestershire village agents in national campaign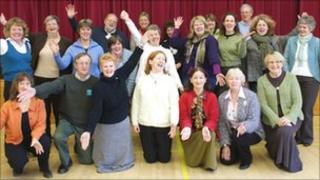 A scheme where villagers help elderly neighbours in Gloucestershire is being highlighted in a national campaign.
The village agents, who offer practical support to older people, feature in a DVD produced by a charity which aims to empower those in rural communities.
Barbara Piranty, from Gloucestershire Rural Community Council, said she hoped the "much valued service" would inspire and motivate other rural councils.
Village agents are active in 204 of the 253 parishes across Gloucestershire.
'Scant attention'
The Rural Media Company campaign is designed to challenge assumptions regarding the services wanted or needed by older people living in rural communities.
Project director Jane Jackson said: "England's population is ageing faster in the countryside than it is in urban areas. Yet, rural ageing gets scant attention in the media or from politicians."
The seven other case studies featured are; Dorset Partnership for Older People Programme, Esk Moors Lodge in North Yorkshire, Derbyshire Housing Options, Waltham House Extra Care Housing in Derbyshire, Lincolnshire CallConnect, Norfolk Money Matters and Wessex Home Improvement Loans in Somerset.