Gloucestershire Royal Hospital criticised in report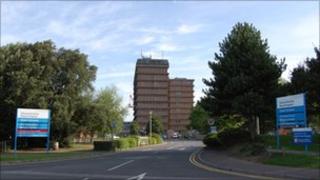 Gloucestershire Hospitals NHS Trust has promised to take action after inspectors raised concerns over standards of care.
The Care Quality Commission found the Gloucestershire Royal Hospital was failing to meet the required standard in six areas.
These included patient privacy in areas where maintenance was in progress.
A trust spokesman said it promised to deal with any issues but was pleased with the overall findings.
Inspectors made an unannounced visit in March.
They found that:
Signage above beds should be clearer on patients' nutritional needs
Care plans for individuals were not always in place
Patients were leaving hospital too late because of delays in discharge information
Some staff had not received basic training to protect people from harm or abuse
Isolated areas required maintenance work to prevent a risk of infection
Maintenance work in some busy areas had caused a lack of patient privacy
The hospital now has to produce an action plan showing how it will deal with the issues.
Dr Frank Harsent, chief executive of Gloucestershire Hospitals NHS Trust, said: "Overall, I am pleased with the findings of the CQC in its review of compliance and am particularly proud that the inspection team praised staff after observing so many instances of caring and supportive treatment of patients.
"We will certainly be addressing every concern raised by the inspectors, however minor, to ensure we meet the standards identified."
Gloucestershire Royal Hospital serves a population of more than 500,000 people.
Situated near the centre of Gloucester it provides a wide range of services from accident and emergency to general surgery, cardiology, maternity and cardiac care.
The CQC is the health and social care regulator for England. It aims to ensure better care for everyone in hospital, in a care home and at home.