Name for new canal bridge in Stroud is revealed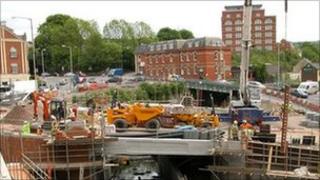 Stroud's new canal bridge is to be known as Stroud Brewery Bridge.
The structure carrying the A46 over the waterway in the town centre is due to be opened in June after months of delays.
Its name commemorates the old Stroud Brewery which stood next to the site until its demolition in the 1970s.
"We thought this name was a good way of remembering a once great landmark," said Councillor Keith Pearson, of Stroud District Council.
The bridge over the old Thames and Severn Canal is part of the ongoing Cotswolds Canals Restoration Project.
Popular suggestion
The name was chosen from nearly 30 suggestions submitted to the council by members of the public.
Brewery Bridge was the most popular suggestion, but both Stroud Town Council and the Gloucestershire Society for Industrial Archaeology felt that the name Stroud should be incorporated into the title.
Road traffic was originally carried by the old Wallbridge Bridge until the canal was infilled at Merrywalks in the 1960s and the new A46 junction built.
The new bridge will open up the route of the canal between Stonehouse Ocean and Capels Mill as part of the ongoing Cotswold Canals Restoration Project.
It had originally been due to open in November 2010 but building work was delayed because of bad weather and an unexpected excavation at the base of the bridge.
The majority of the funding for the new bridge has come from the Canal Project with the remainder from the county council.