Gloucester's Woolworths store taken over by M&S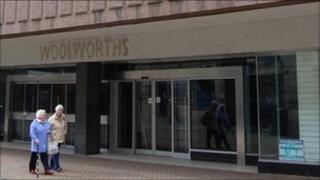 The former Woolworths store in Gloucester's Eastgate Shopping Centre is to be taken over by Marks and Spencer.
It has been empty since the firm went into administration, in January 2009.
The move will take place next April and 20 new jobs will be created. Two existing M&S shops in the city will close.
Professor Barry Davies, retail expert at the University of Gloucestershire, said it will give a "boost" to trade.
"It makes it more of a draw for the city centre," he said. "Big Marks and Spencer stores tend to be destination shops. People go to them when they're explicitly looking for things.
"It's the sort of place people go to for comparison shopping so that boosts footfall in the city."
Currently, 108 staff work at the two existing M&S sites in Northgate Street and Southgate Street. After those stores close, there will be 128 people employed at the new store.
Neil Draper, general manager of The Eastgate Shopping Centre, said the move will "have a positive effect on the whole of the city".