Rhino cup goes for £300,000 at Cheltenham auction house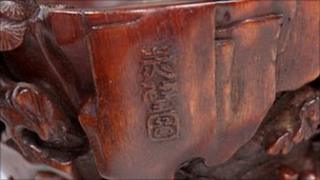 An intricately carved Chinese cup made from rhinoceros horn has sold for more than £300,000 at auction in Cheltenham.
The rare 17th Century "libation cup", which is marked with a seal in ancient Zhuanshu script, had expected to fetch just £80,000.
Auctioneers Mallams said it was sold to an overseas telephone bidder.
Director Robin Fisher said he was "pleased with the result", although not surprised as the market for classical Chinese works of art was strong.
The hammer price for the artefact was £280,000, but with the buyer's premium added, the actual selling price was £336,000.
The auctioneers said the Zhuanshu stamp would have bumped up its value.
Libation cups were communal drinking vessels used on important ceremonial occasions or for religious rituals.
Those made of rhinoceros horn were considered magical objects, thought to contain aphrodisiac properties and to be able to detect poison.
Trade in modern objects of rhinoceros horn is banned, but ancient works of art are permitted to be sold as their sale has no impact on the endangered trade, the auctioneers added.