Gloucester Cathedral artist recreates old scaffolding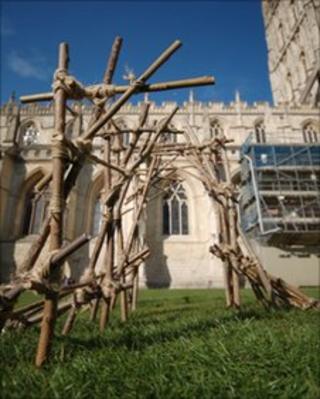 Ever wondered how the builders constructed Gloucester Cathedral over 1,000 years ago?
It was a time before electric drills, steel and health and safety but artist-in-residence, David Behar-Perahia, will be taking us back to show how it was done.
For his final exhibition, Mr Behar-Perahia is installing three large sculptures inspired by medieval scaffolding and made from long greenwood timber poles.
One of these will be made outside the Cathedral with the participation of the public, echoing the joint community effort it took to raise a cathedral in medieval times.
If you are physically fit, over 18 years old, and you have a minimum of four hours to spare, you are invited to take part.
The project is taking place from 28 May to 11 June.
Whether making timber joints, helping lash them together, or lifting poles into position, volunteers will learn more about the process of building a cathedral.
For more information, please visit David Behar-Perahia's blog or call the cathedral office on 01452 528095.