Unofficial cheese rolling 'concern' in Gloucestershire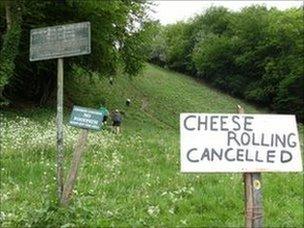 A former cheese rolling organiser has appealed for people to avoid Coopers Hill in Gloucestershire on 30 May.
Richard Jeffries said the lack of first aid cover would be a "concern" if an unofficial event were to take place.
In the past, St John Ambulance and other volunteers have provided first aid but that help will not be available this year according to Mr Jeffries.
Plans for an official two day festival were abandoned after organisers said they had been threatened with violence.
"My worst case scenario is that people are going to come from all over the place and cause such a large crowd there that we've got a serious problem," added Mr Jeffries.
About 15,000 people turned up for the last official cheese rolling event in 2009 but Cooper's Hill, near Brockworth, is only suitable for about 5,000.
Related Internet Links
The BBC is not responsible for the content of external sites.