Lily Allen to pay Gloucestershire wedding policing costs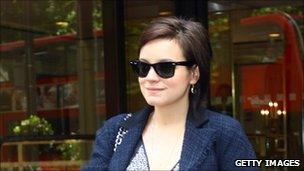 Pop star Lily Allen and her fiance will pay towards policing at their wedding, Gloucestershire Police have said.
Allen, 26, who has a home in the Cotswolds, is due to marry building company owner Sam Cooper next week.
A police spokeswoman said a number of officers will be on duty as the force has an obligation to police events that could cause disruption to locals.
The main concern was the possibility of media representatives and sightseers attending the village, she said.
The spokeswoman said a private company would be responsible for security on the site of the wedding.
"A number" of extra police officers will be on duty on the day as well, she added.
"Gloucestershire Police have an obligation to police any events that could cause any form of disruption to the local community and in order to ensure the safety of local residents and those attending," she said.
"In this instance the bride and groom have agreed to pay towards additional policing in the area in an effort to reduce the impact their wedding has on local people and taxpayers."
In March, Allen criticised the person responsible for leaking a copy of her wedding invitation to the media.
"Your [sic] not invited any more, have some respect and stay at home," she wrote on Twitter.
Related Internet Links
The BBC is not responsible for the content of external sites.