Ashchurch army vehicle base homes plan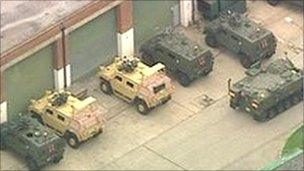 An army depot in Gloucestershire has been earmarked as being suitable for new housing, the BBC has learned.
It follows speculation the Defence Storage and Distribution Centre (DSDC) in Ashchurch, where military vehicles are maintained, could close.
A Tewkesbury Borough Council document shows the 178-acre site has been included in the 2011 Strategic Housing Land Availability Assessment
If sold, the site could be suitable for around 600 new homes.
At present the base employs 625 civilians and 29 military staff.
Any decision to dispose of the site by the MoD would require a ministerial sign-off.
An MoD spokesman said no formal decision had been made and it was discussing options for its future use.
"We are considering the potential financial benefits of relocating the functions currently carried out at Ashchurch to another MoD site," he said.
Tewkesbury Borough Council's corporate head of borough development, Mella McMahon, said: "A decision has not been made on the future of the MoD Ashchurch site but the MoD proposes to engage with the council, as its local planning authority, to explore options for the future use of the site.
"There have been initial discussions."
Related Internet Links
The BBC is not responsible for the content of external sites.