Judicial review to be held into Gloucestershire services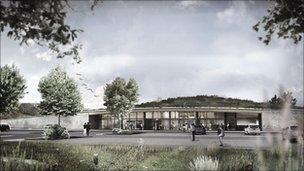 Plans for a new service station on the M5 have been put on hold pending a judicial review.
Stroud District Council granted planning permission for the proposed £35m site Brookthorpe, Gloucestershire, last summer.
But solicitors representing two rival service station operators have applied for a judicial review into the decision.
Stroud District Council says it intends to defend its case robustly.
The service station, a joint venture between Gloucestershire Gateway Trust (GGT) and Westmorland Limited, is to be part-operated by a charity.
They have said the services will create 300 new jobs for the area and serve locally-sourced food.
Welcome Break and Roadchef claim planning permission for the scheme was granted unlawfully.
The companies say an objection they submitted to the plans - based on analysis of the need for another service area - was not fully considered by the council in granting permission.
They also say the council failed to consider an objection by Natural England, which said the proposals would have a significant effect on the landscape of the Cotswold Area of Outstanding Natural Beauty.
Mark Gale, chief executive of the GGT, said the trust was disappointed that a judicial review would be held.
He said: "We are disappointed because this will delay the local jobs and benefits for local producers and charities coming to the ground by a few months.
"We are confident Stroud District Council has made the right decision and I think even more concerning is that council tax payers are being forced to spend money defending a democratic decision to protect the interests of monopoly motorway service providers."
A spokesman for Stroud District Council said a date for the hearing has yet to be set.
"We are confident that our decision to grant planning consent for the motorway services area will stand up to the detailed scrutiny of the High Court," he said.
A previous request for a public inquiry into the decision was turned down.
Related Internet Links
The BBC is not responsible for the content of external sites.