Cotswold volunteers give 40,000 hours to conservation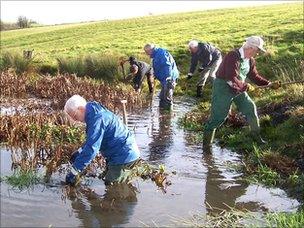 Almost 300 wardens volunteered more than 40,000 hours last year to help conserve and enhance the Cotswolds.
The Cotswolds Conservation Board has released figures for what it says was a "record breaking" year for its wardens.
A total of 43,772 hours - 1,425 more than the previous year - were spent on work such as repairing dry stone walls, clearing land and planting new trees.
Head warden David Colbourne said it was an "exceptionally productive" year.
Almost 70% of the voluntary wardens time was spent on conservation work with the remainder focused on organising guided walks, attending shows and advancing the Board's education project.
Volunteer co-ordinator Becky Jones said the Cotswolds Conservation Board was "extremely grateful" for the help which was worth over £300,000.
The Cotswolds is the second largest protected landscape in England after the Lake District.
It covers 787 square miles (2,038 square km) stretching from Warwickshire and Worcestershire in the north, through Gloucestershire and Oxfordshire, down to Bath and Wiltshire in the south.
Related Internet Links
The BBC is not responsible for the content of external sites.