Arcade machines seized in Gloucestershire and Somerset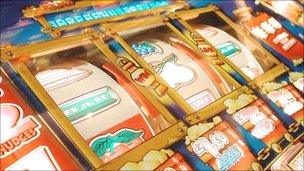 Customs officers have seized 31 illegal gaming machines from amusement arcades in Gloucestershire and Somerset.
The machines were taken last month during raids by HM Revenue and Customs officials investigating tax evasion.
A total of 17 machines were confiscated in Gloucester and 14 in Taunton with the money forfeited by the owners.
Customs spokesman Bob Gaiger said they were investigating the non-payment of at least £180,000 in amusement machine licence duty over a three-year period.
"Gaming machine operators are legally required to pay the excise duty on each machine to purchase the appropriate licence," said Mr Gaiger.
"If they don't, then our officers step in.
"We only seize machines as the last resort, when all other efforts have been exhausted."
Related Internet Links
The BBC is not responsible for the content of external sites.