Gloucestershire Old Spots breeders win trademark case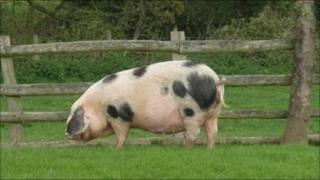 Breeders of Gloucestershire Old Spots pigs have won a trademark battle against a meat marketing company over the name of one of its products.
The UK Intellectual Property Office (UKIPO) has invalidated the trademark Bramley Old Spot Pork.
Gloucestershire Old Spots Pig Breeders' Club argued that the meat did not come from pure-bred animals.
Axle Associates, makers of the Bramley product, described UK trademark law as "wholly inconsistent".
Richard Lutwyche, secretary of the Cirencester-based breeders' club, said it was a "victory for purveyors of quality meats throughout the UK and beyond".
"It is good to see that common sense has prevailed and the UKIPO agrees with us that meat products from an Old Spots can only use the name Old Spot if they are bred from two pedigree animals," he said.
'Excellent product'
Last June, the Gloucestershire Old Spots (GOS) breed was added to the European Union's Protected Food Name list.
It states that any product bearing the Gloucestershire Old Spots name must come from the breed.
"I think this sends a clear message to those in the UK market place looking to exploit this breed - don't, because we are determined to protect the Old Spots' good name," said Mr Lutwyche.
Mark Armitage, trademark attorney at law firm Withers and Rogers, said: "It is important that consumers know that when they buy pork products bearing a trademark containing the words Old Spot that they are getting genuine Gloucestershire Old Spots pork products."
Jim Ironside, director of Selkirkshire-based Axle Associates, said the UK trademark law was inconsistent.
"The main reason for the hearing officer's decision is that consumers are at risk of believing Bramley Old Spot is pure-bred Gloucestershire Old Spots pork," he said.
"UK Trade Mark law is wholly inconsistent, which is neither a fault of GOS breeders' club nor the owners of Bramley Old Spot Pork trademark.
"Gloucestershire Old Spot pork is an excellent product and I wish the breeders' club well in future."