Gloucester Victorian terrace sells for £2.15m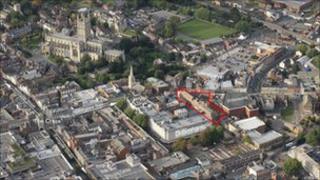 A Victorian terrace in Gloucester which includes a 15th Century merchant's house has been sold for £2.15m.
Sections of St Aldate Street and Northgate Street, covering half an acre, went on the market for £1.4m in November and were bought by property investor Panther Securities.
The sale includes 17 shops, 21 empty apartments and a car park.
The new owners plan to start work soon on refurbishing the flats which will then be rented as a complete block.