Gloucestershire students get bars ban after lewd acts on bus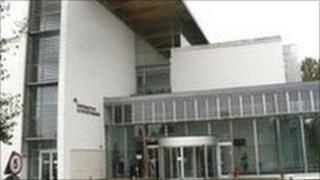 Six University of Gloucestershire students who performed lewd sex acts on a bus, have been ordered to stay out of on-licensed premises for 160 days.
Gloucester Crown Court heard they carried out the acts while drunk as part of initiation ceremonies in 2010.
Lewis Baker, 22; James Devlin, 20; Alex Bye, 20; Daniel Hammond, 20; Ryan Lissamore, 19, and Oliver Graham, 21, admitted outraging public decency.
The university also banned the six from ever joining any of its sport teams.
The court heard that four 17-year-old girls who witnessed some of the acts were all left shaken and upset by what they had seen.
Older members of their rugby and football teams were said to have handed out degrading challenges for their new team mates.
'Revolting and disgusting'
The court was told they had been out on 20 September drinking all day dressed as characters from the movie Top Gun in white naval uniforms, and many were handcuffed in pairs.
That evening about 30 members of the two teams boarded the No 94 bus in Cheltenham.
It was on the top deck of the bus the acts were committed, Julian Kesner, prosecuting, said.
"The acts can be described as both revolting and disgusting," he said.
In mitigation, barristers representing the defendants said all six now realised how "inappropriate" their behaviour had been and had written letters of apology to the teenage girls.
Baker, of Winchcombe Street; Devlin, of Montpellier Villas; Bye and Hammond, both of New Street; Lissamore, of Alstone Lane, and Graham, of Arle Gardens, all Cheltenham, each received a conditional discharge.
They were all given community orders by Judge Jamie Tabor QC, with a single prohibition of keeping out of all on-licensed premises for 160 days.
They were also ordered to pay prosecution costs.
The defendants, who the court heard were all of previously good character, remain students at the university.
A university spokeswoman said: "The university takes offensive and anti-social behaviour very seriously and has been working closely with the students' union to challenge poor student behaviour by delivering training, developing campaigns and working with sports team captains to create a more positive culture which will enhance sporting opportunities for all students."
The rugby and football teams have been disbanded by the university.
In 2008 University of Gloucestershire sports students were caught carrying out a controversial Nazi-style initiation ceremony.
A video emerged showing students in Nazi costumes lined up against a wall with bags over their heads drinking and vomiting.