Solar power for City Works centre in Gloucester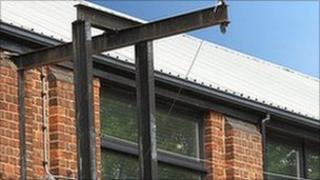 Nearly 200 solar panels are to be installed on the roof of a community centre in Gloucester.
The installation at City Works is expected to generate 40,000 kWh of electricity a year, equivalent to 12 average-sized family homes.
The £130,000 project is to be funded via the Berkshire-based Solar Co-op which aims to develop renewable energy.
It plans to offer individuals and community groups the option to buy shares in the project.
A Solar Co-op spokesman said the current Feed-In Tariff only benefited people who could afford to have solar panels installed on their property.
"This scheme gives everyone the chance to invest in renewables and benefit from the tariff," he said.
It is hoped work can start in the autumn, subject to the funds being raised.
The photovoltaic panels generate electricity when exposed to sunlight and are connected to the building's power supply via an inverter synchronised to the electricity main's frequency.
This is used for lighting and power in the building with any surplus sold back to the electricity company.