Large Blue butterflies spotted in Gloucestershire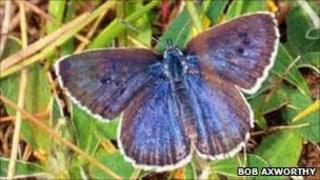 A number of rare Large Blue butterflies have been spotted at a Gloucestershire nature reserve.
Several of the insects were spotted at Daneway Banks nature reserve at Sapperton near Stroud.
The species was reintroduced to the reserve in 2002 after becoming extinct in the county in the 1960s, and nationally in 1979.
Over the past two years the butterfly's population has been under threat because of bad weather.
'Right conditions'
Pete Bradshaw from Gloucestershire Wildlife Trust said: "It's great to see them returning again this year, and we're hoping that this means they are beginning to shake off the last two years of poor weather.
"We work so hard to get the conditions right for them, so it's heartening to see them persevering," he added.
The reintroduction is part of the Centre for Ecology and Hydrology's Large Blue Project.
Very specific conditions are required for the species to breed.
The butterfly lays its eggs on wild thyme. Once hatched, the caterpillars feed on the plant before dropping to the ground where red ants (Myrmica sabuleti) mistake them for ant larvae and take them into their colonies.
There the butterfly larvae feed on ant larvae until they emerge as butterflies.
Experts say if weather conditions stay good the butterflies could be around at Daneway Banks nature reserve for the next two weeks.