Moreton fire college 'needs private cash'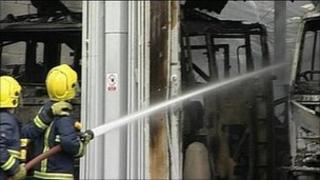 The Cotswolds-based UK Fire Service College has been told it needs to team up with private training providers to prevent it from closing.
A Local Government Association (LGA) report said the training centre, at Moreton-in-Marsh, was under used and "beset by debt and financial issues."
The government-owned centre has been run as a trust since 1992.
It said in a statement that all options would be explored with potential partners to help keep the college open.
The 500-acre site offers leadership and advanced operational courses for senior fire officers from the UK and abroad.
The report by the LGA - a voluntary lobbying organisation - recommends that the college should commission a private company to provide training, perhaps ultimately providing teaching across all of the emergency services.
'Priceless' job
David Cartright, chairman of the working group said: "We looked at all the options, but the only one that stacks up is the overwhelming need for proper funding and significant capital investment that can only come from the private sector as we see it at the moment."
But John Drake from the Fire Brigades Union said he had concerns about private-public partnerships, particularly after the scrapping by the coalition government of the troubled regional fire control centre at Taunton, following a series of delays and increased costs.
"There are some things you can't put a price on, and investment in the fire and rescue service and all that we do... is just priceless we would argue and for a relatively small amount of money, the government should take control of the Fires Service College and put it in the hands of the professionals."
A statement from the Department for Communities and Local Government, which is responsible for the college, said: "The Fire Service College has unique facilities especially in relation to national resilience, multi-agency and inter-operability training and development.
"But [it] can only achieve its full potential if there is greater involvement from other sectors - whether private, public or voluntary - in its ownership, operation and governance.
"We will explore with the sector and other organisations options to secure the future of the college."