Wotton-under-Edge 'scissors attack' man in court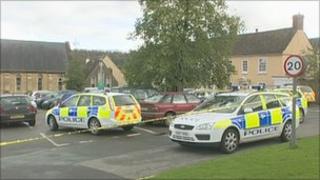 A man accused of stabbing his ex-fiancee with scissors in a car park in Gloucestershire had just held a prayer meeting with her, a court has heard.
Nigel Bassett, 63, of Parklands, Wotton-under-Edge denies attempted murder but admitted wounding with intent to cause grievous bodily harm.
The court heard Mr Bassett attacked Julie Grey on 8 November after she called off their wedding.
The pair, both Baptists, had just met a minister to discuss their problems.
'Frenzied attack'
Mrs Grey, 61, a widow from Oldbury-on-Severn, told the jury she had broken up with Mr Bassett "moments earlier as she could no longer live with his possessive and jealous behaviour".
Robin Shellard, prosecuting, described the attack as "frenzied".
He said: "Nigel Bassett attacked Julie Grey leaving her seriously injured. He repeatedly stabbed her with a pair of scissors."
The court was told that Mrs Grey's relationship with Nigel Bassett started in January last year and they had quickly become engaged as the relationship "blossomed".
Mr Shellard said Mrs Grey started to have doubts after becoming worried about her fiance's jealousy.
The couple met with Baptist minister, Tom Wharin, on 8 November to discuss the troubles with their relationship, and all three prayed together.
Mrs Grey told Mr Bassett during this meeting that the relationship was over.
The court was told the couple then walked back to their cars.
When asked to describe Mr Bassett's behaviour, she said: "Cold, blank, I couldn't see his eyes... there was no expression at all, just his demeanour was serious.
"I felt jabs to my body, just jabs all over my body, particularly my back, like somebody really giving your body a blow. I couldn't understand what was happening."
Mrs Grey was treated at the scene by a nurse before being airlifted to hospital.
The trial continues.