Barbecue team impress judges in European competition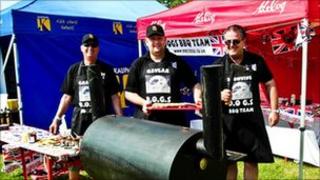 A team of amateur chefs from the Forest of Dean has been placed third at a European barbecuing championships.
The Dean Order of Grillers and Smokers (DOGS), representing England, impressed the judges with their roast beef and Yorkshire pudding.
Seventy teams from nations across Europe took part in the televised contest in Estonia.
Chef Andy Williams said: "One of the judges told us it was the best roast beef she'd ever tasted."
The Good Food Festival - Grillfest is held annually in the town of Türi in central Estonia and chef Gavin Wilkinson said the competition was "a big deal" in the country.
"It's covered on national TV and national radio and in print. It's definitely the biggest competition in Europe," he said.
'Royal wedding'
Teams were marked on their ability to cook a chicken breast and pork ribs and in another part of the competition created a 'fantasy' theme.
"The judges come to your cooking area and you have to have a whole themed presentation," said Mr Williams.
"We rebuilt the royal wedding street party with flags and English beer, and we cooked roast beef and Yorkshire pudding on a smoker."
The team are now planning on returning to Estonia for next year's competition.
"We want to win it," said Mr Wilkinson.