Joanna Parrish murder case closed in France after 21 years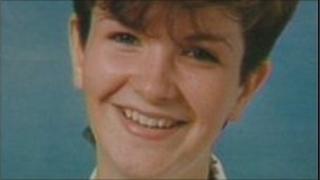 More than 20 years after a student from Gloucestershire was raped and murdered while teaching in France, the French authorities have closed the case.
The parents of 21-year-old Joanna Parrish said they will challenge the decision and will "go down fighting".
Miss Parrish, from Newnham-on-Severn, was found raped and strangled in a river in Auxerre on 17 May 1990.
Vital DNA relating to the murder scene was lost but her parents still hope new evidence will come forward.
'Big disappointment'
French serial killer Michel Fourniret was made a suspect in, but never tried for, the young woman's murder.
Miss Parrish's mother Pauline Murrell said she had been expecting the decision for about 18 months, but added: "We are going to go down fighting."
"It's been an absolute disaster all the way through, I suppose we shouldn't be surprised that's what they're doing," she said.
"Our lawyers have already faxed about 36 pages of questions for them which they're going to have to answer.
"I keep racking my brains for what else there is we can do.
"Here we seem to be able to pick up court cases 30 years on, but obviously in France they're not able to do that."
'Have a rethink'
She described the fight to get justice for her daughter as "an extra arm or leg" because it was always there.
Miss Parrish's father Roger Parrish said: "It's a big disappointment. We feel completely let down.
"We know full well that the French authorities had forensic evidence... we now find that same DNA evidence is no longer available.
"Our lawyers have responded to the latest piece of information from the prosecutor's department and they've suggested there's a number of ways that the case can be kept open, but I haven't heard the details of that yet.
"We are just hoping the prosecutor's department will have a rethink about that.
"In France it's the situation that within 10 years after a case is formally closed it can be opened if new evidence comes to light.
"If 10 years has lapsed from the date of formal closure of the case, nobody can be charged.
"We will keep on trying, we will never give up."